AquaMB Process®
Multiple Barrier Membrane System
The AquaMB Process® is a multiple barrier system that integrates biological treatment and clarification with dual barrier filtration consisting of cloth media and external membrane separation. It is ideal for wastewater plants that require optimum performance and flexibility at the lowest cost of ownership. Compared to multiple unit processes and membrane bioreactor (MBRs), the AquaMB Process offers numerous advantages with the added benefit of single source responsibility

Biological System
Flow enters the bioreactor where a series of independent phases promote biological treatment. Separate mixing and aeration devices allow the contents of the reactor to undergo biomass conditioning and nutrient reduction by alternating aerobic and anoxic periods. Following quiescent settling, supernatant from the reactor is transferred from the first barrier to the cloth media filter.
Cloth Media Filtration
Inlet water passes through the cloth media or second barrier. Filtered water is collected in the center tube where it is directed to a supply channel that feeds the external microfiltration membrane system.
Membranes
The membrane system is the final barrier of the AquaMB Process®. Feed flow enters the membrane module where low positive pressure enables the fluid to permeate the membrane, excluding fine particulates down to 0.02 microns in size. Filtrate from the membranes is directed to final discharge or reuse application.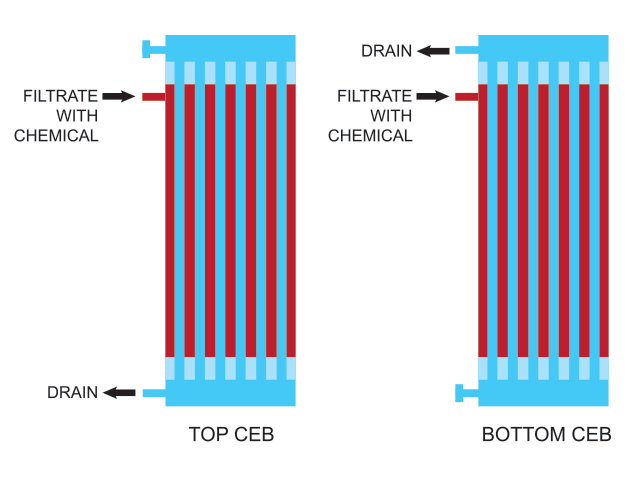 Periodic chemical cleaning removes organics and mineral deposits.
Fully automated with manual option.
In-situ cleaning; removal of membranes not required.
Membranes are compatible with a variety of cleaning chemicals.
Features & Specifications
Advanced biological nutrient removal

Separation of aeration and mixing
Quiescent settling

Dual barrier filtration

10 or 5 micron Cloth Media Filter
0.02 micron ultrafiltration

External membranes

Automatic in-place cleaning and integrity testing
Easy Access
Fewer membranes compared to traditional multi-unit processes

Flexible design and operation
Alternate discharge points
Ease of operation
Fine screening of MLSS not required
Benefits
Advanced biological nutrient removal
Dual barrier filtration
External membranes
Flexible design and operation
No air scouring required
Fewer membranes and chemicals required
Alternate discharge points
High quality effluent
Bacteria and virus removal
Lowest cost of ownership
| Resource Categories | Title | Summary | Download Link |
| --- | --- | --- | --- |
| Article | Achieving Reuse Quality Water Using Multiple-Barrier Treatment | The incorporation of nitrogen and phosphorus removal to the treatment scheme broadens the opportunities where reclaimed water can … | |
| White Paper | Alternative to Membrane Bioreactor to Achieve High Effluent Quality | Application of progressive staged filtration following the biological system. | |
| Video | Aqua-Aerobic Systems, Inc. Overview Video | | |
| Brochure | AquaMB Process® Brochure | | |
| Article | St. Helens, Australia | On the island of Tasmania off Australia's southeast coast, the AquaMB Process® from Aqua-Aerobic Systems Inc. … | |
| White Paper | Ultrafiltration for Reuse of Industrial Wastewater | This paper details a pilot study treating high-salinity secondary effluent from the production of specialty chemical … | |