Aqua MSBR®
Modified Sequencing Batch Reactor
The Aqua MSBR® modified sequencing batch reactor combines the advantages of sequencing batch reactor technology with a traditional flow-through activated sludge process to produce a low cost, compact and continuous flow system. The Aqua MSBR is ideal for large scale municipal and industrial applications >15,000 m3/day.
There are four (4) phases of the Aqua MSBR operation:
Anoxic Mixing and Mixed Liquor Recycle
Aeration, Mixing and Mixed Liquor Recycle
Pre-settle
Clarification
Description of a 7-Cell System:
Cells 1 & 7 – Sequencing cells alternate four phases. As cell 1 progresses through phases 1-3, cell 7 will remain in phase 4 and vice versa.
Cell 2 – Phase Separator Cell designed to concentrate recycled mixed liquor solids feed stream to the anaerobic cell and promote an optimal environment to enhance phosphorus release within the anaerobic cell
Cell 3 – Fermentation Cell designed to increase concentration of volatile fatty acids (VFAs)
Cell 4 – Anaerobic Cell designed to promote phosphorus release under optimized conditions
Cell 5 – Anoxic Mixing Cell designed to provide denitrification
Cell 6 – Aerobic Cell designed to provide oxidation of carbonaceous material, nitrification, and the biological uptake of phosphorus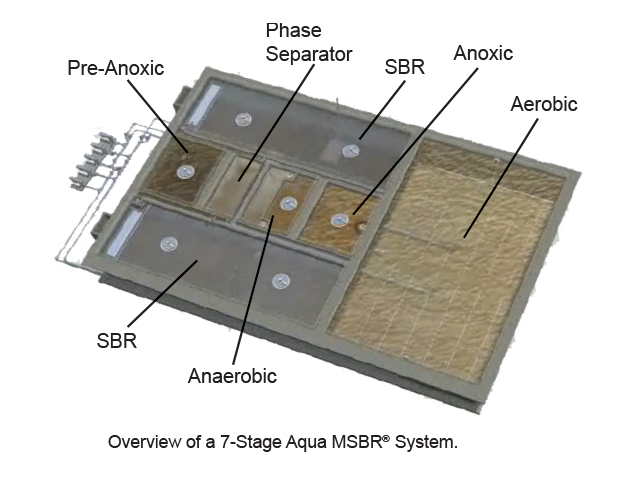 Features & Specifications
Constant water level
Continuous flow
Simple operation
Adept at processing high-peak hydraulic flows due to storm events
Quiescent settling prior to clarification phase
Optimized, enhanced biological nutrient removal
Benefits
No need for separate structures
Unique flow through system
Basin configuration optimized
Existing aeration equipment can be used
Superior performance even in low-strength, low-temperature wastewaters common in North America and Europe
Fully automated control system
Better sludge flocculation; no sludge collection mechanisms
Low TSS discharge; effective nitrification, denitrification and phosphorus removal
| Resource Categories | Title | Summary | Download Link |
| --- | --- | --- | --- |
| Brochure | Aqua MSBR® Brochure | | |
| Success Story | Kunming, China | Kunming Puzhao WWTP in China operates completely underground, below a public park | |
| Success Story | Shenzhen, China | Aqua MSBR® System meets phosphorus removal requirements in China, without chemicals | |
| White Paper | Luofang Wastewater Treatment Plant | Luofang Wastewater Treatment Plant adopted a new concept of enhanced biological phosphorus removal in combination … | |
| White Paper | Advanced MSBR® System at Shenzhen Yantian Wastewater Treatment Plant | The Shenzhen Yantian WWTP increased daily capacity by an additional 40,000 m<sup>3</sup>The Shenzhen Yantian WWTP … | |
| Video | Aqua-Aerobic Systems, Inc. Overview Video | | |