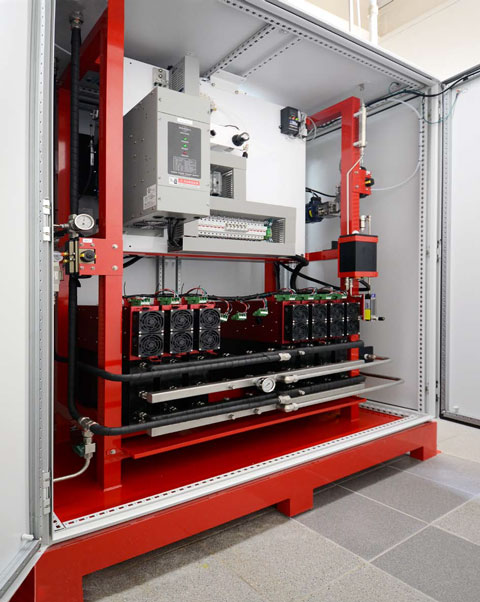 Aqua-Aerobic Systems, Inc. (Loves Park, IL) and Pinnacle Ozone Solutions, LLC (Cocoa, FL) have signed an agreement that confirms Aqua-Aerobic Systems as the exclusive municipal distributor for Pinnacle's ozone generation systems. The products will be marketed under the Aqua ElectrOzone™ M-Series brand, with models available to produce ozone outputs ranging from 6.8 Kg/Day to 245 Kg/Day (15 ppd to 540 ppd).
The Pinnacle ozone generating systems are one of the best examples of blending superior product design, process performance and exceptional service in the ozone generation market. The products feature a modular design with fully integrated controls and offer a 100:1 turndown ratio for efficient and silent operation.  Additionally, Pinnacle's Technology eliminates the challenges that lead to dielectric failures found in other ozone generators and includes a limited ten-year dielectric warranty in most municipal applications.
Chuck Smith, President of Pinnacle Ozone Solutions states, "Aqua-Aerobic Systems is well known for their exceptional customer service, and for their investments in delivering quality solutions to the water market.  This agreement with Aqua-Aerobic Systems expands the marketing and service reach of Pinnacle in the municipal marketplace and allows Pinnacle Ozone Solutions to focus more on industrial applications and processes using ozone."
Bill Decker, Vice President & General Manager of the Equipment & Service Group for Aqua-Aerobic Systems states, "The Pinnacle product is an ideal solution for small to mid-size installations that require a high-quality ozone generation system that operates with minimal operator intervention.  The ease of operation is unmatched and we look forward to working with engineers and municipalities considering ozone as part of their water treatment processes."
About Aqua-Aerobic Systems, Inc.
Aqua-Aerobic Systems, Inc. is an applied engineering company specializing in total water management solutions in the areas of aeration and mixing, biological processes, cloth media filtration, membranes, oxidation/disinfection and process control. Since 1969, Aqua-Aerobic Systems, Inc. has served the water and wastewater industry in both the municipal and industrial markets. For more information visit, www.aqua-aerobic.com
About Pinnacle Ozone Solutions, LLC
Pinnacle Ozone Solutions specializes in the design and fabrication of modular, high frequency ozone generation systems by providing a full line of municipal and industrial ozone generators. Pinnacle prides itself on the commitment to deliver, service and support of its products. For more information visit, www.pinnacleozone.com.